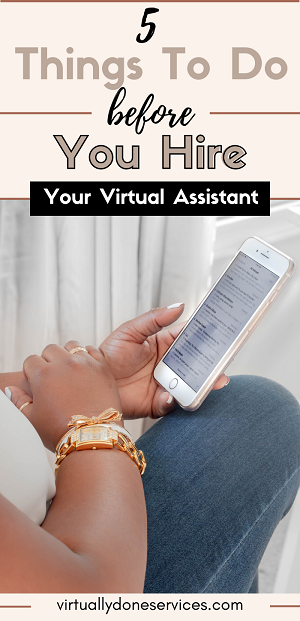 You are so overworked. Trying to balance 8 million things makes it challenging to run your business to the high quality you would like. If only you could get some help. Thankfully, virtual assistants are here to take your one-person team to a one-person team with a very well-organized cheerleader behind them. Let's take a look at some of the things you should do before hiring a virtual assistant.
Have Clear Goals
Sometimes when we are business owners, our own goals can be obscure. Hiring a virtual assistant who promises to take your business to the next level is well and good, but how do you measure the next level? Instead, it would help if you had clear, SMART goals to hold both yourself and your assistant accountable. These goals need to be:
·  Specific: Clear language, easily defined. For example: "I would like my travel arrangements to New York City in April to be made a month in advance." 
·  Measurable: This helps you track progress for both your virtual assistant and yourself.
·  Achievable: The goal needs to be attainable. You and your virtual assistant aren't suddenly superhuman. There are only 24 hours in a day, and of those, only a portion should be spent working for an ideal work/life balance.
·  Relevant: Is your virtual assistant only meant to be working on business tasks? For example, they are not the right person to plan your child's birthday party.
·  Time-bound: Goals should come with target dates. "I want to have doubled our revenue by 2022 via responding to customer queries within 24 hours." 
Know your Budget
Naturally, every business owner has their idea of what can be considered a realistic budget. Have a close look at how much your business expenses are setting you back and what tasks you're doing every day that isn't earning you a single bit of money. Once you have evaluated that you can assess your budget, you can spend time doing things that actively make you money rather than mindlessly doing admin work.
Provide Clear Instructions
You need to make sure you can communicate what you need regularly. Providing clear instructions doesn't mean hours of phone calls, but regular emails detailing what needs doing alongside a few bullet points of what's important to you can go a long way to achieve a harmonious working relationship between your VA and you.
The more able a thing on the to-do list can be done without your continuous input, the better suited it is for your virtual assistant to take on.
Track Your Time (to know how many hours per week or month you'll need)
The next time you have a hellish week, take a few moments here and there to write down just how long specific tasks are taking you. Some jobs may take a VA far less time. Some may take longer due to being new to working together. I like to add 10-15 minutes to how long something would take me—Overtime, the tasks that take me longer, and my client end-up balancing out.
Once you have tracked how many hours of assistance you need every week, you can work out how much of that you have a VA budget for.
Don't Settle 
This is the most crucial piece of advice I can give you. You don't settle in your marriage or business, I hope! It would help if you also didn't compromise when finding the perfect person to become integral to your business.
· Schedule interviews the same way you would if this person was working with you in-person.
· If posting in a Facebook group or Upwork, create a small test for your top candidate, maybe something like a quick travel itinerary or a research project. Ideally, it should be able to be completed in 30-45 minutes. In my opinion, anything longer, you should compensate them for their time. 
· Look for punctuality and if the person followed the given instructions.
· Give them a short trial period. You don't need to commit to one another for a year. I like to start with 30 or 90 days. 
Do you think I might be that missing puzzle piece to your business? I believe in creating long-term, collaborative relationships to take your business to the next level. Feel free to browse my website to find out more about my services and pricing. If you think we'd be a good fit, we can set up a  call to discuss your business needs.
I look forward to hearing all about your business!