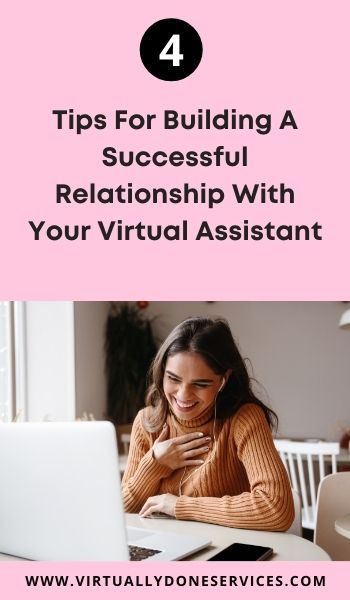 I am a little biased, but virtual assistants are an essential part of your business. We keep track of various things and keep you updated with them. Honestly, you will notice your business operations become easier for you with a virtual assistant on board. 
Virtual assistants are nothing like your typical employee. Virtual assistants are so much more than just an employee, as we typically wear several hats to get the job done. 
If you're considering hiring a VA, it is in your best interest to make sure that you build a good relationship with your virtual assistant. Here are four useful tips that you need to follow to ensure a happy and successful relationship with your VA. 
1. Communicate Effectively
You should know that one of the main things that you should focus on is communication. Your virtual assistant is not physically present with you in the office. So, you need to ensure that you're practicing effective communication with them. 
Communication styles and preferences should be discussed in your initial discovery call and written in the contract. 
If you do not do this when an issue arises, it can open way for misinterpretation, and nobody wants that! Always make sure that you're effectively communicating with your assistant to get projects done timely and efficiently. 
2. Set Boundaries
Now, many times, you might forget that virtual assistants need just as much time for their personal life as you. Since your entire communication is based virtually, you may disassociate and think we work all the time. Honestly, most VAs do work a lot, but that's beside the point here. 
Set healthy boundaries that are easy to follow. This includes setting timings when you need your VA the most during the workday, and when you don't. You can't assume your VA only works for you during the day unless you hired them to work 8-9 hours per day. Be mindful that if you contact your VA outside of business hours, you may have to wait. Again, this should also be discussed during the initial discovery call. 
3. Ask How You Can Support Them
Hiring a virtual assistant doesn't mean that it's only a one-way street where you get all your work done. Make sure that you offer them something in return as well. 
If they are working long hours for you during a launch, asking how you can help your VA is the bare minimum. Try doing this and see how you develop your relationship with your virtual assistant for the better. 
This doesn't have to be in monetary terms, but that would be nice! You will also find that you can support them in various ways. Honestly, it could be a day off, hiring another team member, a professional development stipend, or a gift basket.
4. Give And Receive Feedback 
Don't think that they are the only ones that you need to give feedback to. Establish a rapport where your VA also offer you feedback about you as their client. 
This will help the two of you to understand each other better. Not only will this be beneficial for your business, but it will also grow your relationship. 
It is easy to forget that your virtual assistant isn't a superhuman. Keep it simple, focus on how important they are for you and your business, and don't be afraid to show your appreciation to them! Did I miss something? Share your tips below!